Tweet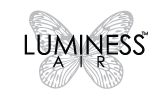 I use bare minerals, that is my foundation of choice. It's lightweight, covers half my imperfections and looks like I'm wearing nothing. Which is amazing.
I saw covers half my imperfections because it really doesn't cover them all. I still have lots of spots that aren't covered, but I feel better about myself wearing it then when I'm not. So it works for me.
However, I had the chance to try out a Luminess Air airbrush makeup unit.
I received the Beauty or the Pro. I think I received the Pro as there are different speeds on it, but I can't be sure.
I have rosacea, acne and eczema on my face. It's not easy to find a system that works. However, I'm very happy with this one!
BEFORE (Yes I KNOW, I have the skin of an 80 yr old)
Lighting is terrible sorry.
After, I tried to match the lighting.
after in actual light.
Still not perfect or anywhere near it, but I feel great. It does a better job of covering up my imperfections than bare minerals. And it feels great going on.
You plug the unit in. Turn it on, then you put your foundation in the sprayer just a few drops. I was in between colors, so I put 2 drops or the lighter in and 2 drops of the darker in. This was enough to do my whole face.
You then pull the little trigger, the harder you pull the harder the force. So you want to pull somewhere to about the middle. Stay about 6" away from the face and you're good to go. It feels cool and refreshing going on. You do the first layer, let the full layer dry for a few seconds and then do another layer, if that's not enough do another. You can choose your coverage!!
Over my chin (my bad spot) I was about 3" away just to get it all covered. You need to move in little circle motions so there isn't an area that looks choppy.
I didn't feel like my pores were getting clogged, it is light and airy. It didn't wear off as the day went on, it stayed looking very smooth.
This was my first time using it, I'm sure I'll get better as I go.
They sent me 4 foundations, Blush, Bronzer, Glow, Primer and 2 eye shadows. I haven't done ANYTHING but the foundation as of yet. I wanted to get a feel for it first.
It is really easy to use though, I was scared at first, but it is very nice to use.
It is a little loud, but it literally took me 4 minutes to do my makeup, so it's not that big of an issue.
Then you put water in the cleaning bottle included, pour it into the sprayer. Then turn it on and put your finger over the spray. Once it starts bubbling release your finger and blow out the foundation that's left in there. It keeps it clean!!
Price: The unit I received is either $223 or $310. Which is expensive, but it is semi worth it! It will last you a long time.
The bottles of foundation are $27-$36 depending on size and the eye shadows are $24.50. These are expensive, but you literally use drops at a time! So it's not so bad.
Overall: ***** I really loved this system. It was easy to use, gave good coverage (you choose the coverage which is great) and it felt refreshing.
Check out more Luminess Air Reviews on my friends blog
makeuptodiefor
*Disclaimer* I received these products directly from the company for Review. I was not paid to try out these products*
A Big Thank you goes out to Luminess Air for allowing me to review this product!