Saturday, February 25, 2017
Tweet
Launch marks retailer's first collaboration with Disney
Posted by

Heather S
at 2/25/2017 11:54:00 AM
0 comments

Tweet
When you're a mom, it can often seem like one of your biggest expenses are your household goods and supplies. This includes things that are required to keep your house running smoothly, like toilet paper, paper towels, toiletries, cleaning products and just general supplies. The cost of these items can add up quickly, but it also seems to be something we don't pay a lot of attention to in our monthly budget.
You can save a lot of money to put toward other things if you look for realistic ways to save money on the
costof your household goods,
with tips like the ones below.
Do Your Shopping Online
If you shop for your household supplies at a big retailer, it can be extremely tempting to spend on things you don't need. You might find yourself mindlessly wandering the aisles and throwing things in your cart, and by the time you get to the register, you've spent much more than you ever intended to.
When you shop online, you can be smarter with your purchases and more thoughtful, to make sure you are only getting what you need.
Find the Best Coupons
There are so many ways to find great coupons these days that go well beyond looking through the Sunday paper and clipping them out. You can use sites like Grabon, which regularly features
Flipkart discount coupons
, or you can use a
site like Coupons.com.
There are hundreds of digital coupons available, which can often be used online or in stores.
Set Up Automated Deliveries
If you use something like Amazon to shop for household supplies, you get the double benefit of saving money along with convenience. They have a
Subscribe and Save
service for household items so that you can browse through categories such as dishwashing, household cleaning, laundry, light bulbs, paper and plastic and more.
You can choose the items you use, and then have them set up on a recurring delivery system. Then, you don't have to think about when it's time to get new items, and you save money in the process.
The Subscribe and Save Services is available not just for household supplies, but also vitamin and diet supplies, health and personal care items, and baby and child care. According to Amazon, ordering the essentials through this service can save up to 15%, and you get free delivery.
Be Careful with What You Buy in Bulk
Buying in bulk can seem like a great concept and a good way to save money, and it can be for things you use every d
ay, such as paper towels, but be careful with bulk items if your focus is your budget. When you shop bulk stores you may find that you end up buying things you won't use or that you don't have room to store, so you may spend more than you would ordinarily.
These are just a few of the most basic ways to save on those household goods we all use, and then that money can be put toward better use in your daily life.
Posted by

Heather S
at 2/25/2017 11:49:00 AM
0 comments

Thursday, February 23, 2017
Tweet
New, as of today, IdealFit has the
IdealLean Stim Free Pre Workout
! I'm super excited about this as I can't have caffeine, but am looking for a great way to help me reach my goals!
IdealLean Stim-Free Pre-Workout is designed to help you get your best workout, every time. We chose optimal levels of blood flow and performance ingredients, like beta-alanine and citrulline malate to combat lactic acid buildup, improve your endurance and lean muscle mass, and help you feel less fatigued. Plus, our commitment to helping you reach your ideal goes down to the taste.
Because it naturally improves crucial blood flow to your active muscles, it helps you get the most out of each and every workout.
IdealLean Stim-Free Pre-Workout tastes amazing, is naturally flavored, and stimulant-free. And with added vitamins and minerals, 0 sugar or fat, and only 5 calories, you can fuel your body and reach your fitness goals faster.
PRODUCT FEATURES
Caffeine Free
Sweetened with Stevia
5 Calories / 0 Sugar / 0 Fat
B Vitamins to Improve Mood
Added Electrolytes
Natural Flavors / Colors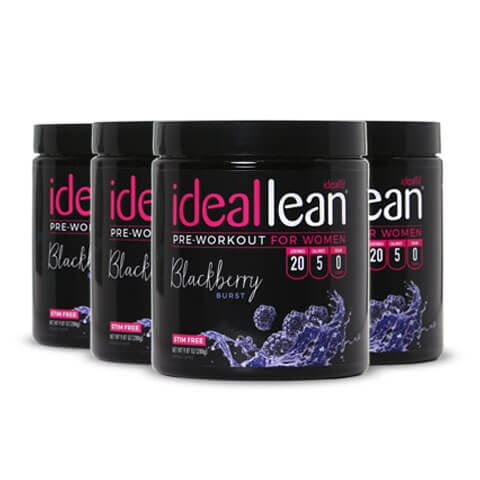 Posted by

Heather S
at 2/23/2017 05:29:00 PM
0 comments

Wednesday, February 22, 2017
Tweet
Ask countless mothers out there what really gets on their nerves.
For a fair number of them, it isn't the standard answer of my kids that you might think of. It also doesn't center on having to run a home and hold another job outside the home. You can also bypass the idea that most of them would say their mother-in-law.
No, one of the things that will really grind on a mom's nerves (literally and figuratively) is dealing with chronic pain.
Whether it is the result of a workplace injury, being injured doing work around the house, maybe even lifting their children the wrong way, the pain can be unbearable.
Making matters worse for many moms, there is no real timeout to be called when raising a family. Even with a supportive spouse by their sides, many moms just keep going and going.
In the event you find yourself in such a predicament, is there hope, both on a physical and mental level?
Seek the Right Form of Pain Treatment
So that you can deal with the chronic pain as best as possible, remember a few key pointers:
·
Seek the right help – No offense to your family physician, but he or she is not always the best qualified to assist you in fighting chronic pain. This is where a
pain relief treatment center
comes in handy. Such a center can be just the ticket you were looking for, giving you for once true hope in your life of putting pain in its place. In searching for the right facility, be sure to do your homework. This begins with asking friends and/or outside family members who've been down this road before with serious chronic pain. Where did they go for help? Did the help ultimately prove to be what they needed? Was the patient service at the facility they went to outstanding? Knowing more about a center before you settle on one will certainly get you off on the right foot;
·
Parenting decisions – Look, being a mom encompasses lots of different responsibilities. That said how you go about those choices does in fact have an impact on your physical and mental well-being. While your children are your top priority nine times out of 10, don't allow that notion to mean neglecting you. Make sure you take some breaks from parenting, giving you the opportunity physically and mentally to recharge your battery. Finally, if your partner is dropping the ball when it comes to the
parenting side of things
, sit down and talk with them. In a nice way, tell them you need more from them when it comes to the children. For many relationships, that conversation can be a tad delicate, but it can also have many benefits to it over time.
Are You as Active as You Can Be with Exercise and Diet?
·
Lifestyle choices – Finally, are you as active as you should be when it comes to your lifestyle choices? Such choices of course would include diet and exercise. Now, there's a good chance you get plenty of exercise with a child or children around the house, but what about exercise where you get to choose what you do? Going to the gym, strolling outside for a long walk, maybe taking a hike in the woods, even a long jog through the neighborhood. Not only are all of those (and other) forms of exercise good for you, but they oftentimes give you a chance to clear your mind from the everyday tasks at hand. As for diet, do you do the best possible to eat healthy meals and snacks as often as possible? If not, you could be contributing to your chronic pain issues. Allowing you to get too overweight can put strain on body parts like your back, legs, ankles etc. Do your best to not only eat and drink healthy, but also keep your body as fit as possible. Lastly, make sure you get regular physicals to check for any unforeseen problems.
When you have the
rest of your family
willing to pitch in and help you through the day, there's a good chance chronic pain won't halt you in your tracks.
If it has been doing that, seek help today for a better tomorrow.
Posted by

Heather S
at 2/22/2017 07:58:00 PM
0 comments

Tweet
The official diaper of experienced parents, Luvs Ultra Leakguard Diapers with NightLock Plus™ are softer and more absorbent than before, with large stretch tabs for easy fastening, ultra-leakage protection and a money-back guarantee. Luvs provide features babies and parents need for less cost than premium brands.
Luvs is sharing the love this February and is offering opportunities to save on diapers this month with a $1 print-at-home
coupon offer
. 
Use this coupon at any mass, discount, or grocery stores where Luvs Diapers are sold.
Posted by

Heather S
at 2/22/2017 07:54:00 PM
0 comments