Tweet
What kind of mattress are you sleeping on?
Is it one of those uncomfortable spring mattresses? Or is it a very comfortable mattress?
Mattresses have certainly come a long way in the years. I used to sleep on a hard spring mattress that was my grandma's when I was growing up. It was a queen, but it was very uncomfortable. However I had just turned 12 when I started sleeping on that so I had no issues with my body and it didn't really affect me in any way.
Then I moved out and had a knock off sleep number mattress, it was better than a spring mattress but still not super comfortable, but it made do until about a year ago. Finally we caved in and bought a BRAND new mattress and it is a Serta iComfort. This bed is AMAZING. We got the adjustable base for it too so we can go into a Zero Gravity position (the best position for sleeping) and it can also go into a lounge position which is great for reading. It's the most comfortable bed ever.
But these mattresses are pretty amazing as well. They have Single, Double, King and Super King mattresses to fit your needs and they have a very basic spring mattress all the way up to a Double Pillowtop with cashmere and silk fillings and the pocketed springs shape to the contour of your body. So they only have spring mattresses, but these mattresses are comfortable and high quality AND are affordable.
The mattress I mentioned above is $518 pounds so about $839 USD.
Doesn't it look comfortable??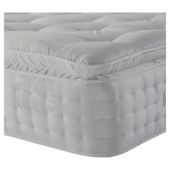 Mattresses are very hard to find for under $1000 these days, especially for one that nice!!
*Disclaimer, This is a partnered post. As always, all my opinions are my own and not swayed by outside sources*