Tweet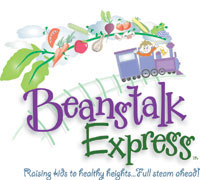 Sometimes as a parent you get caught up in the moment of things and somethings you forget a child's snack right?
I know I do all the time. Avery doesn't really come up to me to say she's hungry, but since I know we should snack every 4-6 hours kids should probably ever 2 or so.
I need to set times when she gets her snacks and it's hard when I'm blogging, or folding laundry, or doing dishes. I get caught up and the next time I look at the time it's almost Lunch time! I feel bad for her
When I came across
Beanstalk Express
I knew I had to contact her immediately for her Snacktime Survival Kit.
It came in the mail
I can't find the pictures! I hate when that happens
You set the time to what it is now,so it's a working clock. And then you set the snack times on the little clocks below. Then you let your child choose their snacks for the day. I usually just pull out a few and let Avery choose, things that are easy that we have on hand.
On the back of the cards, it says how to make it, and it's also color coded. Green means go for it, it's super healthy. Yellow means caution do these like once a week as they are more processed and red is NO like candy and chips etc.
So I let Avery choose her snacks, and I set the time. We do 2 snacks in a day because she sleeps so long and snack time depends on when she wakes up and gets her breakfast.
USUALLY though snacks are at about 12 and 4:30. That's about it.
She naps from 3-4:30ish, when she wakes up she gets some grapes or something like that. Then dinner is at 6-7.
But I love this system. She is learning how to tell time and that when the little clock matches the big clock it's snack time. She's been letting me know when to eat and that's been making me take a break to prepare her snack. Everything has been going great. She's getting fed enough nutrients and she's grazing rather than eating 3 big meals, which is better for metabolism.
We eat pretty healthy food around here too. I've even made a few of my own paper cards for her, like just grapes, or grapes with crackers. A few things that they don't have on the cards that I know she likes.
It's a nice variety too so she's not eating the same snack 3 days in a row. But I do let her choose which helps her have some independence. This is a great system all around and we love it!
Price: The whole system which includes 33 snack cards and the clock and right now it's on summer special for $39.95 it's normally $49.95. I really think this is worth it.
Overall: ***** Love this system. Another one of those "why didn't I think of it first" products!
GIVEAWAY
Beanstalk Express has offered one Mommy Of 1 and Counting reader the chance to win a Snack Time Survival Kit like I reviewed
ENTRY REQUIREMENTSLet me know "What's your child's Favorite snack"
Please include your email address in format name @ domain dot com so bots can't send you spam.
EXTRA ENTRIES
1. Follow my blog via GFC
3. Blog about this giveaway linking back to my site and the
Beanstalk Express
website
4. Add my button to your sidebar
5. Tweet about this giveaway (DAILY)
6. Be a blog subscriber via Feedburner
Giveaway Ends June 25th at 11:59 PM EST
*Disclaimer* I received an item directly from Beanstalk Express in exchange for a review. I was not paid to try out these products*
A big thank you goes out to Beanstalk Express for allowing me to review this product and offering a giveaway